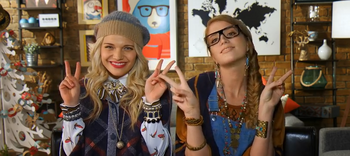 These girls can show you how to live the perfect healthy life... if you don't take any of their advise. Madysen and Sawyer are played by Mallory and Natalie. In the sketches they talk about their own stupidity, life hacks, and some diets they are trying.
Are you totes ready for this amaze lifestyle vlog that we are obsessed with that will supes change your life???!! Learn diet tips, health tips, exercise tips and fashion tips, and feel the world with Sawyer and Madysen now! Science is so amaze!!
Christmas Hacks
You can never be too early or late to celebrate Christmas, amirite? But either way, you totes have to watch your diet!! So here are some supes cool health tips for you and your BFFs. Peace and love!!
OMG r u totes supes ready to learn about how to parent??! Learn about essential oils, polio, sandwiches, organic baby diapers, seashells, and babieeeees! Involve the Earth! Hang with Sawyer and Madysen and learn to be the parent you always supes wanted to be! #momlife #LouandLeiaForever"
Are you ready to GET MINDFUL?! It's the latest trend and supes good for the soul! Join Madysen and Sawyer in their breakthrough Organic Vlog to get all the latest tips and tricks!
(This video will be available on a later date.)
Community content is available under
CC-BY-SA
unless otherwise noted.