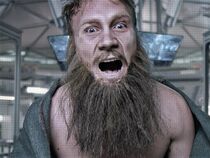 The Martian Vlogs is a sketch series that is based on the movie The Martian, in which an astronaut named Mark Watney, played by Jason Gray tries to set up his new YouTube channel while trying to survive in space. There have been five vlogs of The Martian Vlogs, although only three of them were featured in episodes.
Vlogging from space is officially a thing! Watch how these astronauts pass the time with their YouTube videos and subscribers.
Cast: Jason Gray and Matt Meese
What happens when two astronauts stuck on Mars are competing for total YouTube subscribers??! Find out now!
Cast: Jason Gray and Matt Meese
Sometimes life on Mars is just TOO TOUGH to handle. .....even for the best of us! Check out what's new with the stranded astronauts on Mars!
Cast: Jason Gray and Matt Meese
Commander Watney may have officially snapped! His outer space rage and jealousy towards Commander Clark has brought on extreme astronaut measures, involving challenge videos and subscriber incentives!
Cast: Jason Gray and Matt Meese
That's it! Commander Watney can't take it anymore. He's on his last string on life, not in regards to surviving on Mars, but survival on his YouTube vlog. Commander Clark has truly defeated him and, quite frankly, this astronaut's channel is out of this world! ...and all other outer space worlds.
Cast: Jason Gray and Matt Meese