About Studio C
Edit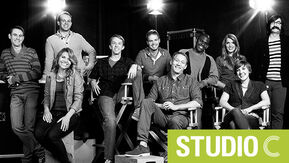 Studio C is a sketch comedy television show produced in Utah by BYUtv. The show traces its roots to the BYU sketch comedy troupe Divine Comedy, of which all ten cast members are current or former members. The show aims to produce clean, family-oriented comedy for a national audience, shedding the BYU-oriented humor of Divine Comedy. The show was originally planned to be named Common Room until being changed to its current name, a reference to the studio in the BYU Broadcasting Building where the show is primarily filmed in front of a live audience.
The seventh season premiered in October 2016. They have also created, "Leave No Fan Behind", "Christmas Special Live Event", and "LIVE EVENT: 1 Million Subscribers - YouTube  Challenge", which are all live YouTube events. This lets fans watch the cast play games and act out skits, as well as ask questions on Instagram, Twitter, and YouTube, for them to answer during the events. Studio C features Matt Meese, Mallory Everton, Whitney Call, Jason Gray, Stephen Meek, Natalie Madsen, Jeremy Warner, Adam Berg, James Perry, Stacey Harkey, Tori Pence, Aaron Fielding, Dalton Johnson and many more. 
Studio C currently has a YouTube channel with over 1,000,000 subscribers. Their channel features many skits from the show, along with a few YouTube exclusives. Studio C's most popular video is Scott Sterling Soccer Shootout, which currently has over 55 million views on YouTube. New videos are uploaded every Tuesday and Friday to the YouTube channel, so be sure to subscribe. 
Welcome to Studio C
Edit
Community content is available under
CC-BY-SA
unless otherwise noted.