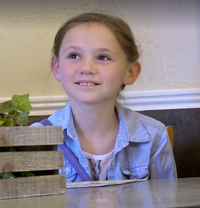 Shayli R. Dursteler, born on February 25, 2006 (15 years old), was the only surviving baby out of nine pregnancies. She was featured in an episode of Random Acts, a charity program produced by BYUtv. After her mother Toni was diagnosed with cancer, her family was devastated. To forget about the horrible trials in the life of their family, Random Acts and Studio C devised a birthday surprise for Shayli to never forget, by letting her and her family have lunch with a part of the cast, and by letting her play an extra in the sketch "Worst Psychiatrist Ever". Her mother passed away on March 11, 2019, at the age of 48.
This family of Studio C fans gets the greatest surprise on their daughter's birthday. The cast of Studio C eats a giant Studio-C-themed birthday cake and even sings a special birthday song to her! The birthday girl even got a minute under the Studio-C spotlight as a sketch extra! Watch for tender moments with the cast and this deserving family.
Stephen is a great example of how therapy can really work!
Community content is available under
CC-BY-SA
unless otherwise noted.