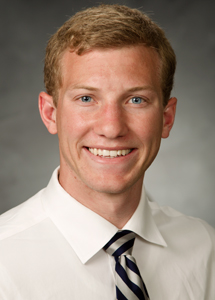 You may have been looking for another page about a certain Matt. If you were, you might be able to find the right page here.
Matt Hopper is a diver and a former member of the BYU Cougars. He attended BYU between 2009 and 2015.
Matt Hopper was born in Provo, Utah, and he has four siblings. During his time at the Desert Vista High School in Phoenix, Arizona, he took up competitive diving, and he quickly appeared to be talented. Not only was he in the Top 10-percent of his high school class, he was also the lead percussionist and he finished sixth in the State Diving Competition in 2007, and fourth in the State Diving Competition in 2009.
During his time at BYU, his diving results continued to impress. In his freshman year, he finished sixth in the men's platform and 16th in the overall rankings in the 2010 Mountain West Conference Swimming and Diving Championships. He also received the Academic All-Conference Award and the Scholar Athletes Award at the same event.
During his other three years, he has competed in several competitions, almost always finishing in the top 10, and he has been named to the All-MPSF Second Team every year. He was even named to the Second Team on three disciplines in his Senior year.
He played Bryan Lance in the sketch "Diving Finals".
Diving Finals
Edit
Welcome to the 5 meter Diving NCAA National Championship. Watch as Bryan Lance and Jason Gray battle for winning place! Who will impress the judges the most?