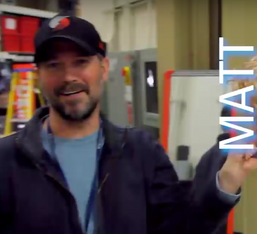 You may have been looking for another page about a certain Matt. If you were, you might be able to find the right page here.
Matt Harris has worked on a lot of movies and television series, and most of them have been a production of BYU Broadcasting. He has worked on shows as Granite Flats, Gold Fever and Studio C. However, his career started in 1994 with the show Touched by an Angel, which he did together with Burke Bowthorpe and Jason Haase. Some of the movies he's worked on include 127 Hours (together with Burke Bowthorpe and Jason Haase), a movie starring James Franco and Kate Mara, High School Musical 2, a movies starring Zac Efron, Vanessa Hudgens and Ashley Tisdale, and The American Mall, a movie starring Nina Dobrev and Rob Mayes. Only once has he been credited as something other than Prop Master or general Art Department, he was credited as Set Decorator in the movie 17 Miracles in 2011.
Matt Harris is the prop master of Studio C. He has been the prop master since Season 2.
Community content is available under
CC-BY-SA
unless otherwise noted.