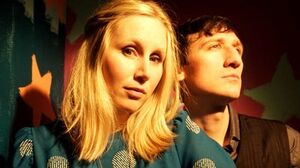 You may have been looking for another page about a certain Jason. If you were, you might be able to find the right page here.
Mates of State are an American indie pop duo, consisting of husband and wife Jason Hammel and Kori Gardner. They have been active in the music industry since 1997, and they have released seven studio albums and four EPs. They have also written songs for the soundtrack of multiple television series, like Gossip Girl, Ugly Betty, and The Killing, and they have appeared on an episode of the Late Show with David Letterman in 2011. Since 2013, their song I Want to Run has been featured as the theme song for Studio C. They have also appeared in two sketches of studio C with their songs Dealbreaker and Kill the Whales.
I Want To Run
Edit
This song is currently the theme song of Studio C. It has been played during the intro of Studio C since Season 2.
Dealbreaker
Edit
Deal Breaker!
Kill The Whales
Edit
KILL THE WHALES!!!!!!!!!!
Song only:
Community content is available under
CC-BY-SA
unless otherwise noted.