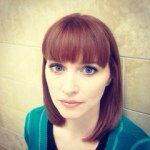 Marren Bailey Copeland is a makeup artist and hair stylist from Utah. Originally from Mountlake Terrace, Washington, she moved to Utah to attend BYU where she graduated with an emphasis in Makeup Design in 2007. She also finished MATC (Mountainland Applied Technology College) in 2016, where she became a licensed cosmetologist and barber. Since her graduation from BYU, she has been working as makeup artist for BYUtv, which includes doing makeup for Random Acts and Studio C.
She has been at Studio C as part of the make-up and costume department since the beginning of Season 1. She has appeared in at least one sketch of Studio C, most noticeably in Who Trashed the Hotel Room?.
Two guests checking in? We have the PERFECT hotel room for you! Enjoy your stay! And PLEASE don't trash the room. Thaaaaaanks, bellhop.
Community content is available under
CC-BY-SA
unless otherwise noted.