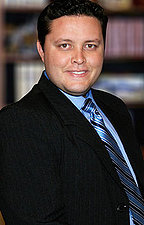 Luiz Malaman has been working for BYU Broadcasting since 2007, and he has won 14 regional Emmy Awards for his work as Producer and Director. He has created and produced many award-winning shows in different genres, for example, sports shows, talk shows, documentaries, game shows, variety shows, and reality shows. Luiz Malaman is a Brazilian/American producer who fluently speaks Spanish, Portuguese and English. He has produced and directed in all 3 languages domestically and internationally in multiple counties. He created, produced and directed 7 seasons of Nexos, 6 seasons of Conexao, and 6 seasons of Heroes, among others. He has also developed, produced and co-directed a popular show Como Cheguei Aqui a reality show shot in a Rio de Janeiro, Brazil. He also produced and directed the revival of Splatalot (featuring Tori Pence and Stacey Harkey) a Canadian game show.
He has never been credited to have worked with Studio C before season 8. He started working as a producer with Studio C in this season.
Community content is available under
CC-BY-SA
unless otherwise noted.