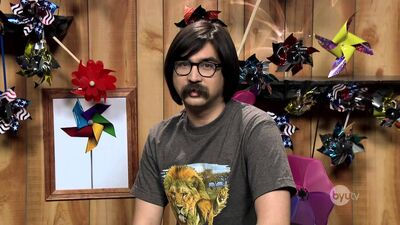 A segment exclusively featuring
Jeremy Warner
and focused on offbeat and quirky humor. Each segment begins with Warner facing stage right in the dark while a voice-over introduces Warner while making a ridiculously fake claim about him. The Just Jeremy theme is sung, Warner turns to face the audience, the lights are raised, and Warner addresses the audience about the subject of the segment. The set background is a wall with a vertical wood pattern and typically is adorned with framed pictures and shelves with objects which generally all have a matching theme. Warner wears a different t-shirt for each segment, typically featuring an animal. The segment concludes with Warner turning to face stage right again as the lights fall while the Just Jeremy theme is repeated. The only other person to have appeared on this segment is James Perry, who was impersonating Warner at the time. Debuted
Season 2 Episode 2
. There have been seven segments of Just Jeremy. Just Jeremy also appeared in
Daniel Harrison: The Man Behind the Mustache
.
How to Grow the Perfect Mustache
Edit
How to grow the perfect mustache.
Secrets Revealed
Edit
Watch Now Jeremy will reveal his secrets!
Never let your dad know which Sci-Fi movies you like.
Jeremy has some competition...
T-Rex Art
Edit
Jeremy explores the incredible things the T-rex has done with such short arms.
Scissor Safety
Edit
What you are about to see is amazing.
Balloon Animals
Edit
How to make balloon animals, or destroy them.