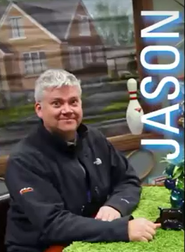 You may have been looking for another page about a certain Jason. If you were, you might be able to find the right page here.
Jason Haase has worked on several television shows and movies, originally starting his career as a set dresser in the movie Deliver Them From Evil: The Taking of Alta View in 1992. His other projects include Touched by an Angel (where he worked with Burke Bowthorpe and Matt Harris), a television series that aired from 1994 to 2003, and 127 Hours (where he worked with the same crew members), a movie starring James Franco and Kate Mara. He has also appeared as an actor in the movie Sarah's Child in 1994. So far, that has been the only movie/television show where he has been credited as an actor.
Jason Haase is the head of the Art Department of Studio C. He has been the segment set decorator and set decorator for many episodes since Season 3.
Community content is available under
CC-BY-SA
unless otherwise noted.