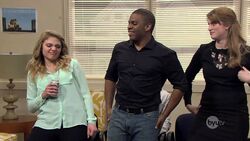 Whitney Call acts as the instructor of a group of people who, despite normal in every other capacity, are completely dysfunctional when attempting to flirt with members of the opposite gender. The dysfunctional class members are played by Mallory Everton, Stephen Meek, Jeremy Warner, Natalie Madsen, Matt Meese, and Jason Gray. Debuted Season 2 Episode 2. The Flirting Academy (sketch) has appeared in two sketches.
The art of seduction is no easy task.
Flirting Academy Graduation
Edit
After years of trying, they've finally graduated.