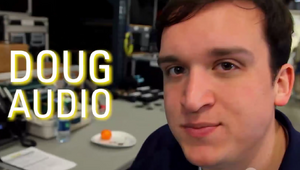 Douglas K. Olsen is a RF Coordination/Microphone Engineer for Studio C, and he has been since Season 3.
Childhood
Edit
Doug Olsen has been involved with audio production since his childhood. When he was a young teenager, he joined a singing and dancing troupe, and he found his passion when he was setting up audio equipment for the shows he was performing in.
After that, he was actively looking for opportunities to train and work with audio technology, but as a high school student, his options were limited. At this young age, he completed work as student mentor at his high school, audio engineer at several shows and audio support for concerts, school, corporate functions and other events.
Brigham Young University
Edit
He went to Brigham Young University to develop his skills through professional employment and higher education, and he completed a bachelor's degree, with an emphasis in Sound Design, and he graduated Cum Laude in 2013. During his education, he was given advanced opportunities to design for main-stage production, which lead him to win several awards; the O. Lee Walker Award (for excellence in technical theatre design and production) and the President's Club Award (for excellence in business management) are some examples of awards he has won.
During his Senior year, he was asked to engineer the sound program of BYU's rendition of The Phantom of the Opera, and he received a grant to go to New York and study the sound program of the Broadway production. He also had the opportunity to work with Utah Regional Ballet, and BYU Broadcasting.
After his graduation, he has been working as freelance designer, engineer and production manager. He has worked at live concerts and events, studio recordings and broadcasting, and he is a teacher of audio classes at BYU.
Community content is available under
CC-BY-SA
unless otherwise noted.