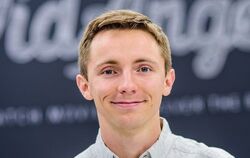 Dave Vance is a writer and host of the political show Spellchek. For the last couple of years, Dave has been writing advertisements for companies, examples being VidAngel, where he worked with Matt Meese, and SquattyPotty. According to him, comedy makes messages interesting, safe and better for connecting. He has made a TEDx talk about comedy, thus being the second member of Studio C to have done a TEDxtalk, after James Perry.
His videos (including commercials) have been viewed over half a billion times.
The sketches he has written for Studio C include International Relations, Hunger Games Parodies and You Deserve a Better You. He has been a writer for Studio C since Season 2.
Community content is available under
CC-BY-SA
unless otherwise noted.