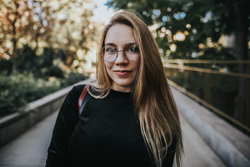 Alena Helzer is a current BYU Divine Comedy member. She joined the group in September 2015, where she is working with the current Featured Cast and Kayla Yentes, among others. She majored in Marketing. She was raised in Draper, Utah.
About me: "Alena is a fugitive of the law. You didn't see her here. Kapeesh?"
She played a cameo in the sketches No Work and All Cosplay, Where Is Thumbkin? and Lost Scouts.
The Theater boyz are BACK! And THIS time, they are using their Harry Potter, Lord of the Rings, and Batman costume skills to impress the girls at the movies!
Don't you just LOVE a good puppet show? The classic nursery rhyme, "Where is Thumbkin?" is sure to get the kids entertained. Get your thumbs a' moving and watch now!
Lost Scouts
Edit
(This video will be available on a later date.)
Community content is available under
CC-BY-SA
unless otherwise noted.